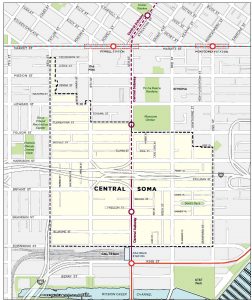 On May 10, 2018, the San Francisco Planning Commission voted unanimously to adopt the Central SoMa Plan and its Implementation Program by certifying the EIR and recommending approval of implementing legislation, with modifications. It also recommended approval of the proposed Central SoMa Housing Sustainability District (HSD), which is separately sponsored by Mayor Mark Farrell and Supervisor Jane Kim. The Central SoMa legislation will next be considered by the Board of Supervisors.
Central SoMa Plan
The Planning Commission's recommended modifications include a Central SoMa Mello Roos Community Financing District (CFD) participation requirement for projects that include new construction or the net addition of more than 40,000 gross square feet on a "Tier B" (residential only) or a "Tier C" property, as defined under proposed Planning Code Section 423.2.  An exception would apply if the project's square footage would not exceed the total that could be approved under current law.
See the Central SoMa website for information about other recommended modifications. The recommended modifications to increase potential housing production, which are summarized in our prior blog post, were incorporated in the substituted legislation introduced by Mayor Farrell and Supervisor Kim last month.
Central SoMa Housing Sustainability District
The HSD would include all property within the Central SoMa Plan Area. Residential projects in the HSD meeting the following criteria would qualify for a 120-day streamlined ministerial (i.e., no CEQA) review and approval process, including design review by the Planning Department:
Residential uses are principally permitted (i.e., do not require conditional use authorization) on the subject property;
Residential density would be between 50 and 750 units per acre;
The majority of the square footage would be for residential uses;
No more than 24,999 gross square feet would be for office uses;
The building height would not exceed 160 feet (unless the project is a 100% affordable housing project);
At least 10% of units would be designated as permanently affordable to very low or low-income households, as defined under Planning Code Section 415;
Prevailing wages would be paid and/or skilled labor would be used for construction, depending in part on the number of units proposed and project timing;
There is no locally significant historic structure (i.e., designated landmark or contributory or significant structure under Articles 10 or 11 of the Planning Code) on the project site;
There would be no demolition, removal or conversion of any existing dwelling unit(s) on the project site;
If a density bonus is requested, there would be no significant shadow impact;
All applicable mitigation measures in the Central SoMa FEIR would be implemented;
All applicable adopted design review standards would be met; and
All applicable zoning standards would be met.
The clock on the 120-day HSD review and approval process would not start until the Preliminary Project Assessment (PPA) process is completed, all required application materials and affidavits (e.g., to implement mitigation measures) are submitted, and any studies required pursuant to any applicable mitigation measures are completed to the satisfaction of the Planning Department's Environmental Review Officer.
HSD project approval would follow a public hearing held by the Planning Department and would be appealable to the Board of Appeals.  A building or site permit for the project would generally need to be obtained within 36 months of project approval.
The proposed Central SoMa HSD legislation is authorized under AB 73, which was sponsored by Assemblymember David Chiu and signed into law in 2017.
We will continue to monitor the proposed legislation through the approval process.